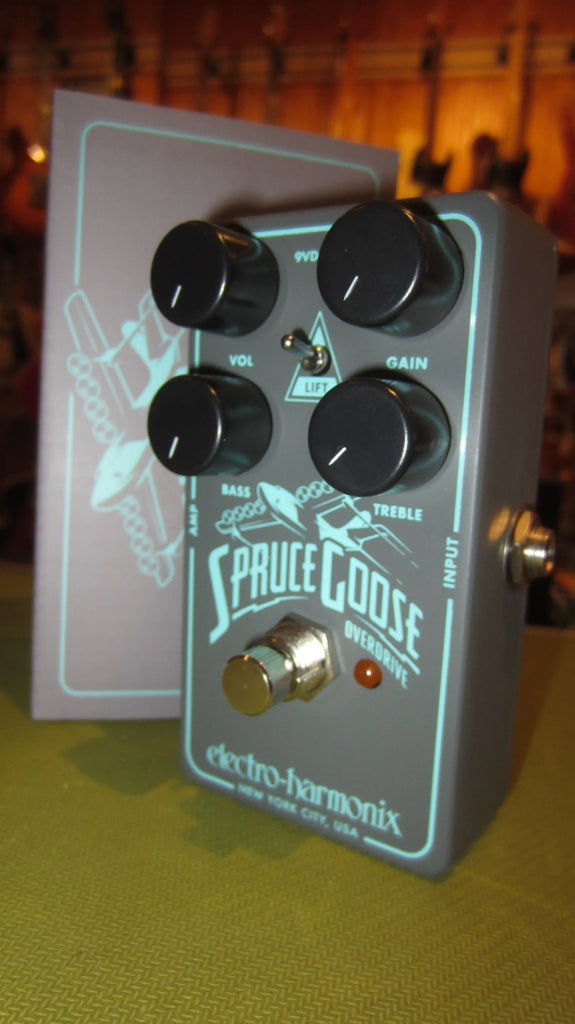 Electro Harmonix Spruce Goose Overdrive Grey
$ 129.95
Liftoff with the EHX Spruce Goose Overdrive, an elevated take on a Bluesbreaker®-style OD with a smooth, rich breakup that retains clarity and dynamics. The Spruce Goose soars with a host of new features including a LIFT switch accessing 3 input gain settings, additional output, and expanded EQ to send your tone flying! From meaty boost to smooth singing leads, the Spruce Goose steers your tone into a variety of inspiring and musical directions.
The engine of the Spruce Goose is an overdrive circuit renowned for its natural breakup and amp-like response. This circuit is then elevated to new heights by the LIFT switch which selects between 3 levels of input gain. LIFT effectively works as an input boost, goosing the front end of the drive circuit hitting harder and producing a more compressed, saturated tone while still retaining its dynamic feel and transparent tone. GAIN and VOL knobs adjust for exact drive and output levels. EQ of the pedal consists of a TREBLE knob for taming topping and an active BASS knob to cut or boost bass frequencies. BASS is especially helpful for adding girth to single coil guitars or tightening the low end on warmer humbucker guitars.
The Spruce Goose also features mechanical relay true bypass switching with latching and momentary action. Tap the footswitch for a normal latching toggle or press and hold the footswitch for a momentary blast of gain and boost! Great for stepping out in front of the mix for pulling quick lick or moment of sonic chaos.
Contact
Rivington Guitars About This Item
Related Products