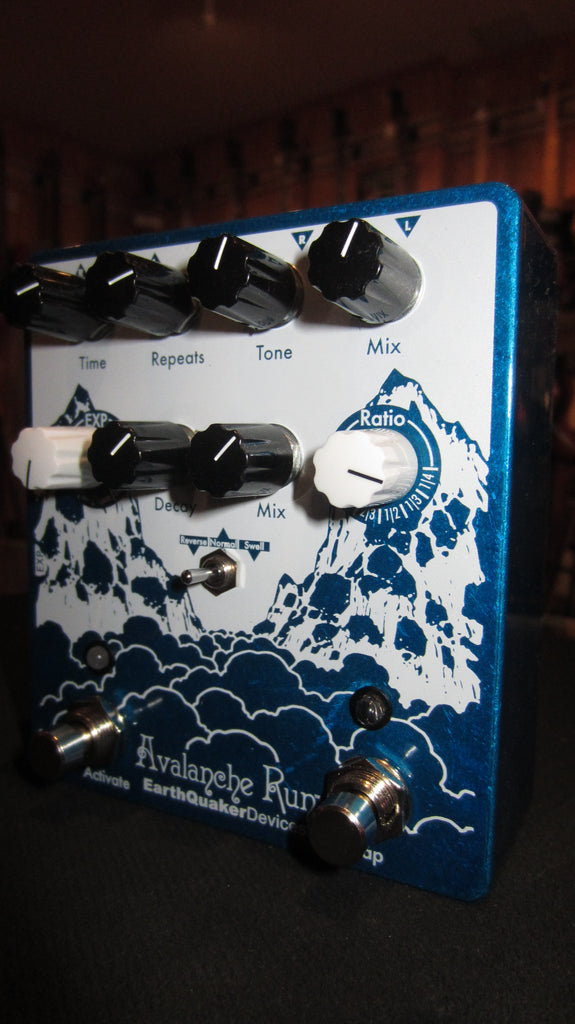 Earthquaker Devices Avalanche Run
$ 299.00
The Avalanche Run is a dreamy sonic discovery device with up to 2 seconds of delay time and a lush stereo reverb. It features complete control over delay time, repeats, mix and voice (with the tone control), as well as control over the reverb length and mix. It can run in one of 3 different modes: Normal, Reverse and Swell. In "Normal" mode, the Avalanche Run functions as a straightforward delay and reverb. In "Reverse" mode, the delay line is in reverse and the reverb remains in normal mode. In "Swell" mode, the Avalanche Run reacts to your picking dynamics and adds a volume swell to the entire signal path much like manually raising and lowering the volume of your guitar.

The Avalanche Run features an expression jack that can be assigned to one of six different controls using the "EXP" selector switch. It also features Tap Tempo with six different ratios accessed via the "Ratio" selector switch. The Avalanche Run can also be run in "True Bypass" mode or "Buffered Bypass" mode for trails and features 5 different tail lengths including "Infinite" for lo-fi and continuously degrading pseudo-looping.
The Activate switch features our Flexi-Switch™ Technology! This relay-based, true bypass switching style allows you to simultaneously use momentary and latching style switching.
For standard latching operation, tap the footswitch once to activate the effect and then tap again to bypass.
For momentary operation, hold the footswitch down for as long as you'd like to use the effect. Once you release the switch the effect will be bypassed.
The Tap switch also has a few other cool secondary functions. While in Normal and Swell mode, you can send the Avalanche Run into self-oscillation by holding down the "Tap" foot switch. In Reverse, mode holding down the Tap switch will flip the delay back into Normal mode and return to Reverse mode once released!
Contact
Rivington Guitars About This Item
Related Products