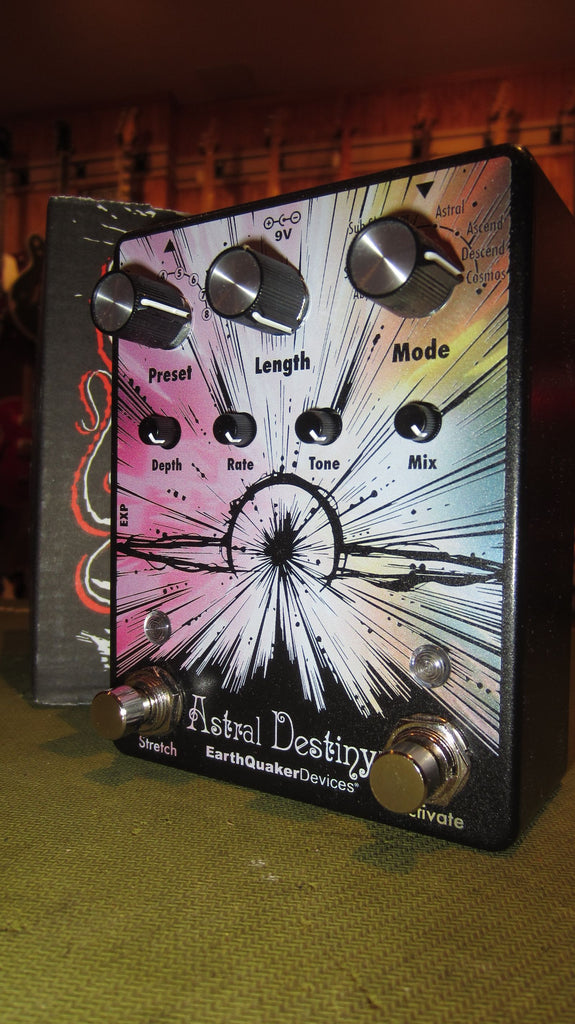 Earthquaker Devices Astral Destiny Octave Reverberation Brick and Mortar Custom
$ 199.00
This is the rare and Limited Edition Brick and Mortar Artwork version of this pedal....we only have a few.

The Astral Destiny is a compact and powerful modulated octave reverb pedal that features 8 reverb modes with 8 editable presets, assignable expression control, tails for natural reverb decay when the effect is bypassed and a super cool stretch feature that doubles the length of the reverb while adding an adjustable pitch bending effect.

Reverb Modes

1. Abyss: Huge reverb with no octave effect

2. Shimmer: Adds an upper octave to the reverb tail

3. Sub: Adds a lower octave to the reverb tail

4. Sub Shimmer: Adds an upper and lower octave to the reverb tail

5. Astral: Adds an upper and lower octave combined with a regenerating tail

6. Ascend: Upward pitch bending

7. Descend: Downward pitch bending

8. Cosmos: Adds a regenerating fifth to the reverb tail

1. Preset: 8 position rotary switch to recall presets. Astral Destiny ships with 8 presets which can be edited or overwritten.

2. Length: Controls the length of the reverb decay.

3. Mode: 8 position rotary switch to select the reverb mode.

4. Depth: Adjusts the intensity of the chorus effect.

5. Rate: Adjusts the rate of the chorus effect.

6. Tone: Boosts treble clockwise, cuts treble counterclockwise. Center is a flat frequency response.

7. Mix: Level control for the reverb effect.

8. Activate Footswitch: You are probably gonna need this to activate and deactivate the reverb effect.

9. Stretch Footswitch: Doubles the length of the reverb effect while adding a temporary change in pitch.

Presets

The Astral Destiny operates between two different modes: Live or Preset. It comes with 8 factory presets, 1 for each reverb mode, that can be edited or completely overwritten for your enjoyment. The settings for Length, Depth, Rate, Tone, Mix as well as EXP assignment and Stretch length can all be stored and recalled. Any of the Astral Destiny's 8 reverb modes can be used as the basis for each of the 8 presets.

Live Mode

This is the standard mode of operation that the Astral Destiny ships in and is indicated by a Green or Red Activate LED depending on the bypass state. Astral Destiny will operate manually in this mode and all controls will visually indicate the current settings.

Preset Mode

This puts the Astral Destiny into one of the 8 presets selected by the Preset rotary switch. This mode is indicated by a Yellow Activate LED. The panel controls will no longer operate as visually set and instead, the Astral Destiny will use the stored control settings for each selected preset position. If a control change is made while in Preset Mode, the Activate LED will begin to flash. You can easily save this change by holding down both footswitches until both LED's flash 4 times indicating that the change has been saved.
Contact
Rivington Guitars About This Item
Related Products